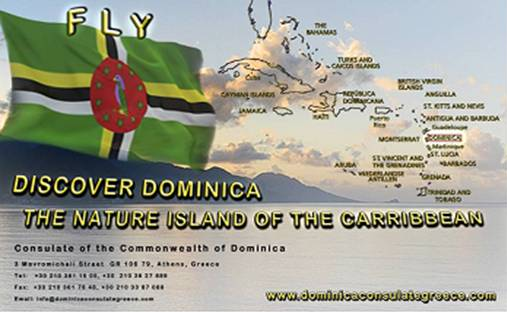 The Commonwealth of Dominica greatly announces that regulations have been updated to allow Private Yachts to charter out for a period of up to eighty four (84) days. This will allow yacht owners the ability to recoup some of the operational costs associated with yacht ownership.
Dominica Maritime Registry offers yacht owners, cost effective yacht registration with no tonnage tax or size restrictions. In addition, the Registry provides a free self-inspection program to help yacht owners ensure safety on their craft.
The Administration considers any pleasure yacht not on charter or carrying passengers for hire, not engaged in trade or commerce, and being used solely for the pleasure or recreational purposes of its owner to be a private yacht.
The registration of private yachts is limited to those of 12 meters or more in length. The Deputy Maritime Administrator may, however, consider waiving the minimum size limitation and other requirements for private yachts less than 12 meters in length given the necessary justification.
A Commonwealth of Dominica citizen or national or a qualified foreign maritime entity must own the vessel. The term "citizen" or "national" includes Commonwealth of Dominica corporations, limited liability companies, partnerships and associations of individuals.
To be registered as a private yacht, an owner must submit at registration a Declaration of Private Use, declaring that the yacht is "not" a commercial yacht or cargo vessel and will not be used for commercial purposes or gain.
Benefits for Registering a Private Yacht under the Commonwealth of Dominica Flag:
 Yacht Registration is fast and simple.
  Competitive Pricing.
 The Registration procedures, documentation, preferred mortgage standards and administrative contracts are accepted by reputable international lending institutions.
  Private Yachts of 12 meters or more in length may be chartered out for 84 days per calendar year (in accordance with International Regulations) provided that the yacht  operates under a minimum safe manning certificate, among other requirements.
  The Registry permits a private yacht to be chartered out for up to 84 days in any one (1) calendar year to allow for the yacht owner to recoup some of his/her operating  expenses. This chartering privilege exempts the yacht from having to be registered as a commercial yacht.
  The Registry provides a free self-inspection program to help yacht owners ensure safety on their craft.
  Extensive Global Technical Support Network is available worldwide from our qualified staff and experienced mariners.
  Dedicated Staff Providing Prompt and Efficient Customer Service.
  24 Hour Emergency Support.
 
Classification by a Classification Society recognized by the Deputy Maritime Administrator is not required but is recommended, particularly for private yachts of 24 meters or more in length.
A Tonnage Measurement may be performed and a certificate of tonnage measurement issued and presented at registration.

Proof of Hull and Machinery and Liability Coverage from an underwriter in policy form acceptable to the Deputy Maritime Administrator is required.
Yacht owners are given an option of either Roseau or Portsmouth as the Yacht's Home Port.

All Private Yachts regardless of size must comply with the International Regulations for Preventing Collisions at Sea, 1972 (COLREGS '72), as amended.  Moreover, compliance with the International Convention for the Prevention of Pollution from Ships, 1973 as amended by the Protocol of 1978 (MARPOL). In addition, all yachts are required to meet local coastal State requirements for the control of pollution in their domestic waters that may exceed those of MARPOL.
In order to receive a complete checklist of required forms for Yacht Registration under the Commonwealth of Dominica Flag, or to obtain a quotation or for any further clarifications please do not hesitate to contact us at: marine@dominicaconsulategreece.com
Kind Regards,
Marine Department
Commonwealth of Dominica
Honorary Consulate Athens, Greece  
Mail: 3 Mavromichali Street GR 106 79 Athens, GREECE
Tel:   +30 210 361 15 05, +30  210 36 27 889
Mob: +30 6937 22 88 88
Fax:  +30 210 361 78 48, +30 210 33 87 088
Email:  marine@dominicaconsulategreece.com
URL:    http://www.dominicaconsulategreece.com